EVERYTHING YOU EVER WANTED TO KNOW ABOUT
eLEARNING
Defining eLearning
eLearning employs technology to facilitate, enhance, and expand educational content, access, and the tracking of training progress. Developed initially as a computer-based content delivery system for schools, eLearning is now embraced by all types of organizations, from large businesses to start-ups, government, non-profits, and trade associations. The top industries using eLearning include Healthcare, Technology, Retail and eCommerce, Education, and Construction.
Today, eLearning means much more than just delivering information. Available on a variety of digital devices, from desktop computers to smartphones and other handheld devices, eLearning is interactive and on-demand, which significantly increases learning engagement and retention.
eLearning happens in a variety of ways, and a variety of terms are associated with it. Here are a few examples.
Glossary of eLearning Terms
Blended Learning or Hybrid Learning is delivering learning content in a variety of settings and styles over an extended period to ensure proficiency. Blended learning can include a combination of face-to-face instructor-led classrooms, online modules and videos, self-study, and on-the-job training.
Online Learning refers to courses delivered online. These are modules that contain content, interactivity, simulations, and quizzes that a user interacts with directly. In the past, these have also been called Computer-Based Training (CBT) or Web-Based Training (WBT) though "eLearning" is generally considered the contemporary term and encapsulates both.
Digital Learning is education distributed on a digital device in any setting, such as classrooms, conference rooms, manufacturing facilities, at a desk, or home.
Distance Learning or Remote Learning means that classes are held online to accommodate learners who are separated from the information source or instructor. These often include video conferencing and recorded lectures.
Flipped Classroom reverses the traditional learning environment by sharing learning material outside of the class and moving active work (once considered homework) to in-class time spent with the instructors and classmates. Flipped Classroom eLearning is when the "classroom" is virtual, and/or digital devices are used for content and activities.
Gamification is training that employs game thinking and game-based tools, such as interactive quizzes.
Interactive eLearning requires dynamic engagement and interchange with learners to motivate critical thinking, problem-solving, and memory retention.
Instructor-Led Training (ILT) is delivered by instructors, either in-person or in virtual classrooms. In-person training is considered eLearning if a digital device is used.
Learning Management Systems (LMS) are software applications used to create, deliver, and track training programs. Top LMS providers include Captivate, TalentLMS, Docebo, Looop, iSpring Learn, Litmos (SAP), Thought Industries, 360 Learning, Coassemble, and Asentia.
Microlearning is training delivered in short bursts over time. Also known as bite-sized learning, microlearning has dramatically increased in recent years, especially with younger generations who have adapted to smaller incremental interactions through mobile devices.
Simulations are training scenarios that use role-playing to deepen the learner's experience and memory through practice. Simulations also provide assessment opportunities for learners and management. In eLearning, simulations encompass virtual activities, online scripts, and interactive role-playing.
Webinars are live or recorded seminars, presentations, or workshops conducted over the internet.
eLearning Benefits
eLearning has expanded rapidly because it is flexible, fast, and delivers exceptional results. Some of these benefits include the following.
eLearning provides flexibility for users. Content can be delivered to teams and individuals on-demand to their preferred devices, anytime, anywhere. The more self-paced, interactive access increases proficiency and allows learners to revisit information, re-take tests, and track their progress.
eLearning offers ease of use for content creators, subject matter experts, and managers. The curriculum can be easily updated, from tweaking verbiage to adding new information and visuals. This means your courses stay current! It also provides much better scalability for a wider audience. With eLearning, the content curated by a small number of subject matter experts can reach a much larger audience through different means than if those experts were teaching individuals in person.
eLearning bolsters productivity. eLearning uses 40% to 60% less employee time compared to Instructor-Led Training, which often takes people away from their jobs for hours or days and can require travel costs. This makes more time available for employees to be productive.
eLearning reinforces memory retention because it is visual and interactive. Plus, studies show that eLearning participants learn up to five times more material than they learn via traditional instruction, without increasing the time spent in training.
eLearning provides valuable metrics that management can use to test and improve training effectiveness. Also, learners and their managers can track individual progress and performance, which improves compliance.
Custom Versus Pre-built eLearning
The up-front cost of pre-built or off-the-shelf eLearning programs may seem attractive but often costs more in the long run. Customizing eLearning brings several valuable benefits that improve overall effectiveness.
Personalization enables you to target the specific subjects and skills relevant for your audience, and not waste time on off-the-shelf topics that aren't or may trail into specifics that don't apply to your business. This has the added benefit of reducing overall training time.
Using real-life scenarios based on actual cases builds trust and credibility, prompting the learner to take the training more seriously. Realistic scenarios and simulations deepen the learner's understanding of how to put the training into practice and allows them to understand the content as it relates to them individually.
Developing custom video and other visuals improves learning proficiency by increasing engagement, knowledge retention, and recall. It will also allow you to integrate and reinforce your business culture and values as it relates to the content.
Scoping an eLearning Project
To appropriately scope an eLearning project, you need to know the answers to several questions:
What is your goal, and how will success at that goal be measured?
Who is your primary audience, and how will they benefit from the eLearning?
How will the audience access the eLearning content?
What are your learning objectives?
Do you have any special requirements, such as translation into other languages or accessibility compliance?
Who are your project partners?
What are your technology and content needs, and how will content be maintained?
What are your internal skills and talents vs. what you need to accomplish?
What are your organization's limits and risks?
What is your desired timeline?
These are all factors or "levers" in determining the scope of any eLearning project. Knowing the direction, desired outcomes, technical specifications, and where you are as a business right now can all affect the approach, design, and tools needed to accomplish your goals. There are no wrong answers to the questions above, and knowing the real state of each of them will set any project on the right path to a successful outcome.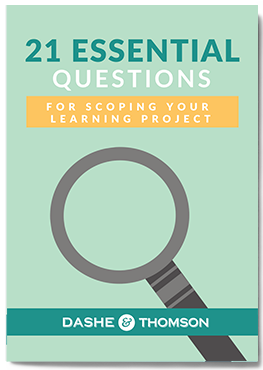 EBOOK
Scoping Your Project
Designing eLearning
Building eLearning isn't easy. To be done well, eLearning requires an exceptional array of skills and tools, which is why many companies hire specialty agencies or consultants to assist in building their eLearning programs.
Designing eLearning should always start with strong Instructional design expertise. This includes knowledge of different learning models and group dynamics. The ID (instructional designer) will work with a team that knows how to build a user experience that supports the goals of the course and then rounds out that experience with strong visual and creative talents. The storyboard, video production, interactions, and animations of a module are all enhanced with a creative team working closely together under an experienced project manager.
If an evaluation is part of your course there are also considerations to take into account involving length, nuance, and placement to ensure that you are assessing the correct information and testing for the results you are seeking.
Where to Access eLearning
If you have a series of Learning and Development programs, consider developing, delivering, and tracking those courses on a Learning Management System (LMS), accessible through a high-profile spot on your intranet. Having information available quickly to those who need to access it will drive involvement and investment from your user base.
To make sure people can easily find the courses they want and to promote an environment of continuous learning, place links to your LMS from relevant areas. For example, Human Resources should have links to Orientation and Onboarding eLearning programs.
The ROI of eLearning
eLearning can be very cost-effective compared to face-to-face programs, despite the seemingly higher initial investment. An eLearning program means you no longer have to rely on and pay for travel, real-world training locations, on-site facilitation, and printing training materials. The scalability of your subject matter experts is greatly enhanced across a much larger user base very quickly.
Plus, with eLearning, your people spend less time training and more time at work. They learn more material faster, have access to it if they ever need to revisit it, and the information has stronger staying power, which means less re-training. You can easily update information. And you have automatic and accurate monitoring and reporting tools.
A simple ROI formula is determined by the investment made (or cost incurred) over the value returned. In other words:
ROI = Gains – Costs
To determine the Costs, consider:
Development of the eLearning course, including contributions by team members and subject matter experts, LMS and/or infrastructure costs, delivery and maintenance costs, and administrative costs.
To determine the Gains, consider:
Costs recouped through a less disruptive delivery of training (the person-hours gained by not having learners and trainers leave their workplace for Instructor-Led Training), training more people on the same content at the same time, reduced retraining, and reduced travel and administrations costs.
In addition to the above simple ROI formula, you can also consider Kirkpatrick's Model of Evaluation as it applies to eLearning that you have implemented:
Level 1. Reaction: Measured by getting feedback from learners.
Level 2. Learning: Measured through course assessments.
Level 3. Behavioral Changes: Measured through improvements in efficiency, manager feedback, or compliance monitoring results.
Level 4. Business Impact: Measured through productivity gains and quality measures.
Frequently Asked Questions
How Do I Manage My Subject Matter Experts?
We've found that generally, SMEs can be grouped into seven categories, or archetypes. Each type can be recognized by certain characteristics, though a few overlapping traits are shared between some. To learn more about each archetype, click HERE.
To learn how to build a solid working relationship with your subject matter experts, click HERE.
Or, do you have one SME that thinks every bit of information they know should be included in your training? Click HERE to learn how to manage.
Want to give your SME some guidance on how to work with an instructional designer or developer? Click HERE.
What Does eLearning Development Cost?
When we scope eLearning projects, we use three main levers as a guide. Click HERE to learn how these levers and other factors contribute to overall cost.
How Do I Assure Quality In eLearning?
Ensuring quality in your eLearning is about more than using a checklist. Click HERE to learn how quality works in eLearning.
What Is The eLearning Review Process, And What Are The Tools?
Custom eLearning development requires smooth collaboration between you and your design team. Click HERE for our Guide to the eLearning Review Process.
How Do I Create An eLearning Storyboard?
eLearning design begins with a storyboard. What does that mean? And how do you build one? Click HERE to learn more.
I Need An eLearning Style Guide.
We've got one for you! Click HERE to download it.
Where Can I Find Resources For More Engaging eLearning Visual Design?
Click HERE for a list of some of our favorite sites.
How do I make sure my eLearning is easy to use?
User experience design in eLearning should be top of mind when creating eLearning. Click HERE to learn more.
Ready to start your eLearning project?