3 Quick Tips for Conducting a Change Readiness Assessment
Your company is implementing yet another change. You swear you just got accustomed to your job's day-to-day technology process, and now corporate is rolling out a new software that's supposedly going to help you do it better. Most people are rolling their eyes, but change can easily be adopted so long as pain points are discovered and addressed. Here's where a change readiness assessment is your best friend.
Change readiness assessments help you assess how ready the company is for change. Harvard Business Review has a slightly more elegant way of describing it:
"Change readiness is the ability to continuously initiate and respond to change in ways that create advantage, minimize risk, and sustain performance."
Whenever change impacts a high volume of stakeholders and their day-to-day job activities, change management becomes critical. A change readiness assessment is the first step in the process. Leaders often feel like they already know the answers to some key change readiness questions: who is impacted, are they resistors to or supporters of the change, and how the change impacts those stakeholder groups. A readiness assessment will bring to light any misalignment between leadership and staff.
Prosci provides a breakdown of what an assessment will provide:
Scope of the change (workgroup, department, division, enterprise)
Number of employees impacted
Type of change (process, technology, organization, job roles, merger, strategy)
Amount of change from where you are today
The data collected from the assessment directly informs specific change management activities and recommendations, including your communication strategy. Also revealed are factors in your organization that could be either risks or enablers for the change. Thus, the recommendation report gleaned from a change readiness assessment is a must-have for organizations during a time of high-impact change.
3 Quick Tips for Conducting a Change Readiness Assessment
Data Collection: Use Both Qualitative and Quantitative Methods
Without utilizing both qualitative and quantitative methods, the data you collect won't be representative of your entire organization. You'll only come away with a bird's eye view and miss the complete picture of your organization's readiness.
Qualitative data is collected by conducting key stakeholder interviews. Generally, anyone in a leadership position and directly involved with the project, as well as key members of the project development team, should be considered for an interview. Internal organizational influencers should also be included.
Though anecdotal, these interviews reveal opinion themes at the leadership level. Some outcomes revealed include:
Level of understanding of the project rationale at a leadership level
Level of understanding of the benefits and barriers the project/change will present
Belief of whether the project vision has been appropriately disseminated to stakeholders
A baseline understanding of company's appetite for change based on previous experiences
Quantitative data is collected via distributing a change readiness survey. Because the survey goes to a larger audience (including leadership, the project team, and end users), it reveals areas that need specific focus and any misalignment between leadership and end users. The survey asks questions to understand sentiments around project sponsorship, resources and support, understanding of the change, and general feeling of readiness.
Data Analysis: Don't Forget to Measure Across Business Functions
Recognizing the readiness of specific business units allows you to tailor communications to those units. Data collected from the surveys and interviews has specifics outputs, like:
Heat maps, which identify areas/departments that need more focus or support
Overall response distribution, which

indicates the number of respondents who either agreed (green) with the sentiments in the questions, were neutral (grey), or disagreed (red) all together.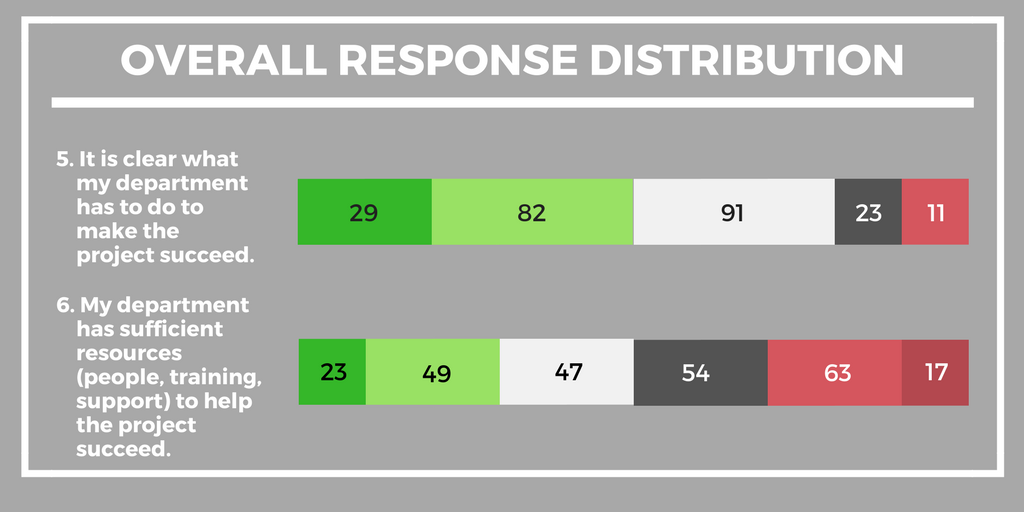 Key risks (what needs work) and enablers (what's going well) for general stakeholder groups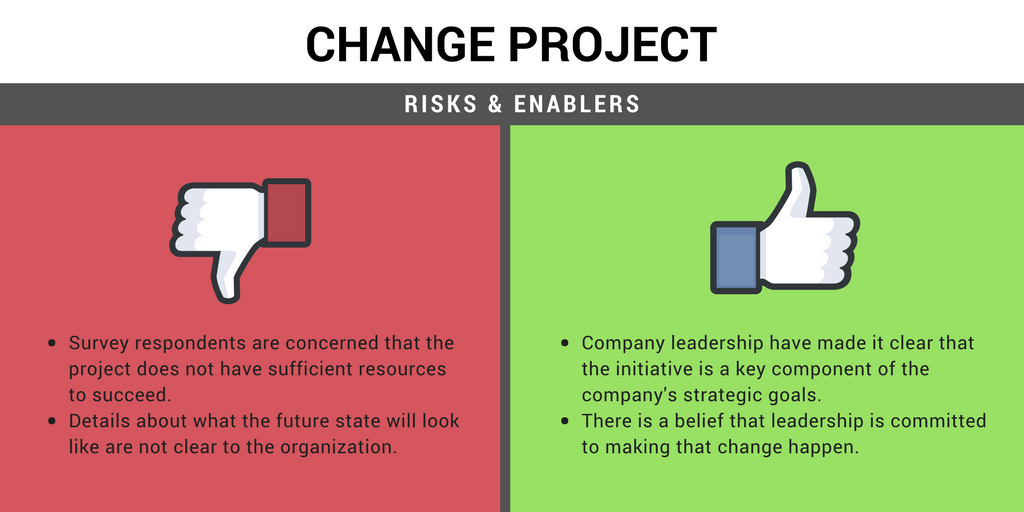 Analysis of the assessment data, from both quantitative and qualitative methods, will provide a roadmap for change and communication tactics that will best serve the needs of the business.
Recommendations and Action: Prioritize, Prioritize, Prioritize!
The data, once analyzed and compared to project business objectives, will result in a report that outlines recommendations to improve understanding, competency, and user adoption of the new process, system, or tool. Some examples of key change management tactics that can be recommended as an outcome of the assessment include: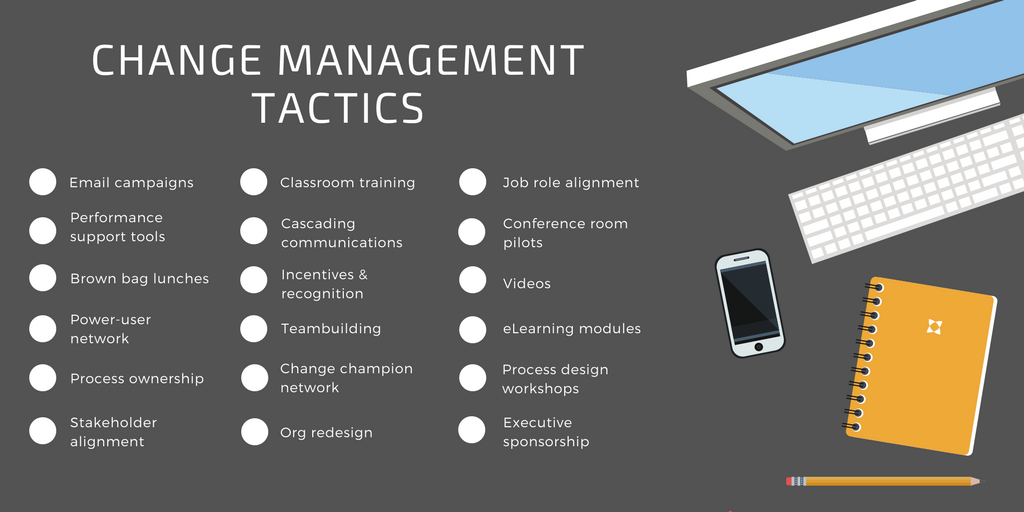 Once appropriate tactics are identified, the OCM team can draft a change strategy and communication plan not only for the general audience, but also for specific target areas.
One way to organize these tactics is by priority, like in the table below.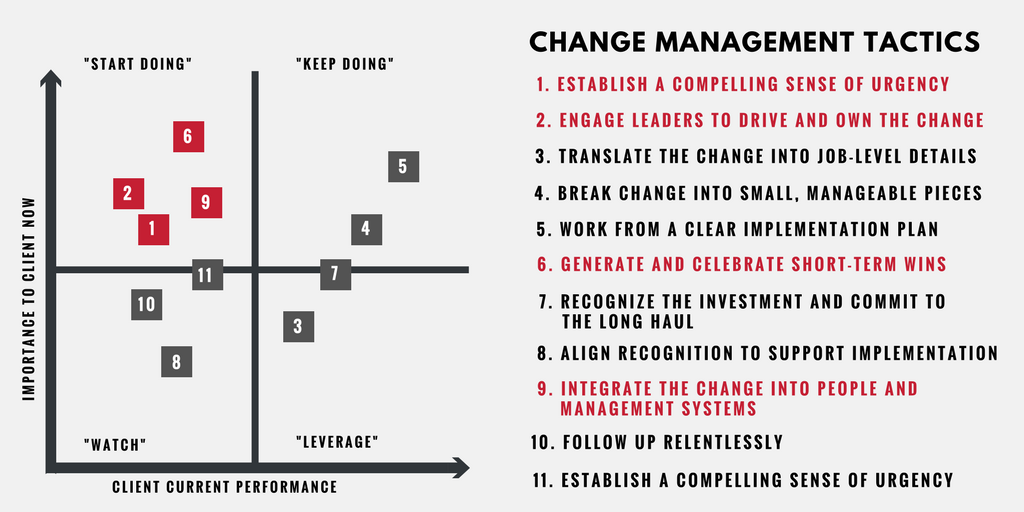 Prioritizing allows you to easily target which actions need the most focus, and create specific tasks/communications to address them. Additionally, prioritizing provides a planning tool for what to focus on next.
Final Word
The change readiness assessment is a phenomenal tool for the overall change management process. It not only informs on the level of readiness, but also provides a roadmap of recommendations for areas of focus. Change is hard, but planning for it doesn't have to be.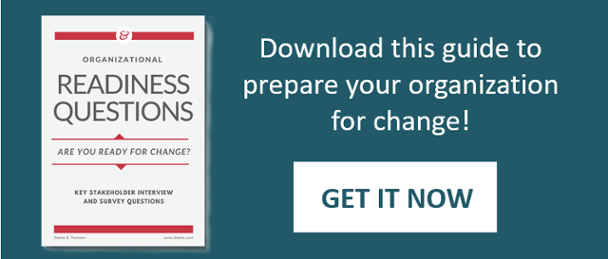 Committed to
finding solutions